The One Nutrition Tip for Any Holiday Weekend
"Staying on track" with health and fitness goals can be hard on a holiday weekend. We chalk it up as a wash and decide there's NO WAY to help ourselves. This isn't true! Yes, there are going to be lots of tasty treats. Yes, there's going to be alcohol, bread, chips and dips and dasher and dancer and prancer… wait. Not yet…
We're happy to suggest that by using this one strategy, anyone can help themselves stay close to the straight and narrow.
The tip: have a well-rounded breakfast and prepare two snacks.
We recommend being 80% on track when you're in a maintenance phase and close to 90% if you're surging for a body composition. To help you stay close to that percentage of "good" meals to "bad," prepared snacks like protein shakes and bars, cut up vegetables, fruit, and nuts or nut butters are very powerful tools.
Yummy Breakfast Ideas
Avocado Spinach and Chevre Scramble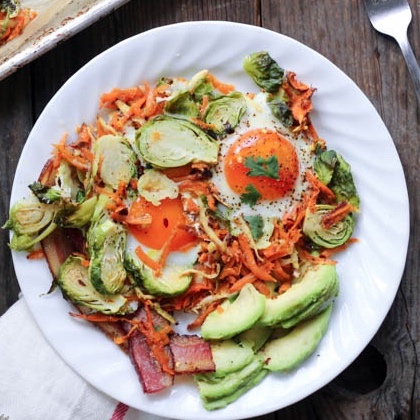 Paleo Sheet Pan Breakfast Bake
Super Simple Shake Recipe
Ladies:
1 serving protein powder (20g protein)
1/2 tbsp coconut oil or 1 tbsp natural peanut butter
1/2 cup blueberries
2 tsp fiber
Gents:
1.5 serving protein powder (30g protein)
1 tbsp coconut oil or 2 tbsp natural peanut butter
1 cup blueberries
1 tbsp fiber
NOTE: add less if you want a thicker shake, more if you want to offset the dehydration from your holiday beverages.
If you have one shake, another go-to snack, plus a quality breakfast (including protein, vegetables, and healthy fats), you only have 2 meals to "worry" about.
If you follow the 80/20 or 90/10 rule, make moderately healthy choices, and stop eating when you're 80% full, you'll be surprised how close you'll stay to your fitness goals.
Remember, you can always fall back on the ever effective, "making good decisions," too. Ask yourself, "will this __(beer, chip, chicken leg)__ help me reach my goal?" Be honest with yourself, but don't forget to celebrate this holiday weekend, but keep in mind there are ways to be healthy and enjoy yourself!
Looking for more nutrition tips?!
Check out last week's blog post on nutrition label reading!